Haneda Fast Track
Airport Meet and Assist
VIP Assistance at Haneda HND airport in Tokyo, Japan.
CHECK PRICE
BOOK NOW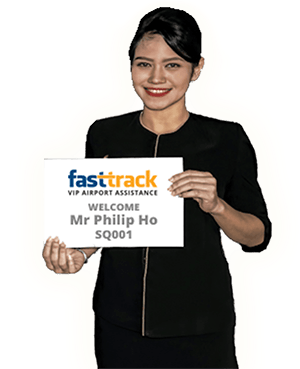 Haneda Airport Meet and Assist services for any traveler, on any airline, in any cabin class.
Haneda is a very large and busy airport. Booking a Meet and Assist Service will make passing through the airport fast and easy. The Fast Track local greeters help bypass the lines and make for a quick arrival, a smooth departure, or a successful connection.
Fast Track's service in Haneda will add a first class feel, usually reserved for VIPs and celebrities. It will include an airside greeting at the airbridge, and help (possibly fast-tracked) through border controls. Our reservation team & booking system will help you book the exact service you need.
Meet & Greet service in Haneda airport
On arrival Fast Track's English speaking greeters will meet you near the air bridge. They will assist you through any passport or visa control, and escort you to the baggage and customs area. They will help find your driver, or if you booked a connection, check in for your next flight.
On departure, they will contact your driver, will assist you through check-in and immigration, and will take you to your airline lounge or the boarding gate.
For connections, the greeter will meet you near the air bridge and will guide and escort you through the arrival, departure and transfer processes needed for your connection, right through to your airline lounge or the gate.
For more than 10 years our Airport Assistance and Booking Team has assisted thousands of travellers pass smoothly through busy airports. Before you book, Fast Track's tools and expert staff will help you understand and choose the exact service you need at the lowest possible cost.
Fast Track services are available to any traveler, on any airline, and in any cabin class, and in all major airports around Asia, the Middle East & Africa.
In Tokyo we serve the airports of Haneda, Narita and in Osaka we service Kansai. We offer travelers VIP meet & greet concierge assistance in each of those airports' international terminals.
Haneda Airport (羽田空港, Haneda Kūkō, IATA code HND), was previously known as Tokyo International, and is  30 minutes south of central Tokyo, (much closer to the city center than Narita Airport).
Haneda Airport serves more domestic flights, but in the last few years international flights have increased. Haneda has 75 million passengers a year, which makes it the busiest airport in Japan and the 7th busiest in the world.
Free shuttle buses operate between terminals  and connecting passengers between the domestic and international terminals can use the monorail or Keikyu Railway.
Travelling to Haneda is easy:  by train on Tokyo Monorail or Keikyu Railway; b y the "limousine bus" which is only 45-60 minutes, and run every half hour. But some  flights are early morning or late night – do note that public transportation is not available 24 hours
Taxis cost 10,000 to 15,000 yen. Private Limousine are also available from around USD250 per way.
Each terminal as a hotel; the Royal Park Hotel ; the  Haneda Excel Hotel Tokyu and the First Cabin Tokyo Haneda capsule hotel.
Other than sleeping, there are plenty of things to do at this airport
Haneda Nihonbashi is 25m long, replica of the  bridge across the Nihonbashi River built in 1911. Distances in Tokyo are measured based on their distance form  the bridge.
Edo-koji food street comprises  20+ Japan- and Edo-inspired restaurants, some open 24 hours serving yakitori, oden, udon ect + shops selling local glasses and cosmetics
At Global Wi-Fi you can hire a Robohon – tour guide robot in uniform which speaks Japanese, English and Mandarin, dispensing tips.
Tokyo Pop Town is divided into a Hot & Cool Zone: with the cool Zone featuring anime, manga and characters; and the Hot Zone a big selection of Hello Kitty items.
Looking at airplanes is good fun at any time  and the  platform in Terminal 2 is really good at night. There is also a 24 hour deck high up in the International terminal.
And if you want to say a prayer, there is an 'aviation shrine', in Terminal 1, which was built 1931 for those wanting to pray for safe passage before they set  off.